The best way to prevent ankle injuries when you play sports is to wear the appropriate footwear, stretch or warm-up, and keep the ankle strong and balanced with basic strengthening exercises. If you have a prior injury, you should not continue to push through pain and difficulty as that can delay healing and prolong the injury. Make sure that the equipment you are using is up to date and that there are no major holes or dangers on the fields you play on.
Jeffrey Silverstein, MD, explains how to prevent ankle injuries when playing sports. Watch this video to learn more.
Learn what to do to prevent foot and ankle injury when playing sports. Watch this video with Paul Switaj, MD from Reston Hospital Center to learn more.
Maintaining the strength and awareness of the feet and ankle muscles is the best way to prevent injury to this area. Specific exercises (best specified by a physical therapist) can achieve this goal. Additionally, for previously injured ankles or inherent weakness, bracing or taping may be utilized during physical activities.
Ankle instability increases your risk of acquiring an ankle injury during sports competition. Stabilization training such as standing on a balance pad or Airex pad and performing exercises will increase the stability of the muscles and connective tissue around the ankle, making it easier for the ankle to stabilize itself during activities. During actual sports competition, having a qualified sports medicine professional wrapping your ankle or wearing an ankle brace will decrease your risk of acquiring an injury.
Sports injuries are common, and the ankle is often the most vulnerable area. In this video, I will reveal what protection you need to keep your ankles healthy.
Continue Learning about Sports Medicine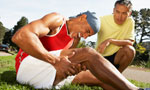 Sports medicine treats injuries, which have occurred from athletic activities. In addition to treatment, sports medicine also focuses on prevention of injuries to ankles, knees, shoulders and fractured bones. Learn more about spor...
ts medicine from our experts.
More