The energetic remedy is a form of Pranic Healing. A book by Mater Cho entitled "Your Hands Can Heal You" explains the energetic remedy in a practical and easy to apply manner. This book encourages multiple alternative techniques for self-healing. These energetic techniques can be applied to sports injuries, as well as other health issues which are extensively explained in this book.
Perform the following steps to provide the energetic remedy for sprains and sports injuries to joints and muscles:
1.Affected area: Sweep alternately with light whitish-green and light whitish-orange. Energize with light whitish-blue (for pain relief, soothing, and stabilizing). Energize with light whitish-orange, then light whitish-red, then light whitish-yellow. Repeat until there is substantial relief.
2.Basic chakra: Sweep with light whitish-green, then energize with light whitish-red. Stabilize.
3.Repeat step 2 on the navel chakra.
4.Don't overexert the area immediately.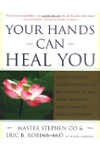 Continue Learning about Sports Injuries