If you experience a major sports injury while you're out playing basketball or jogging, often you'll know right away that something very bad has happened to you and you need to see a specialist. If it's something a little less worrisome or a little more nagging, then you should rest a little bit, put ice on the injury, maybe take a little anti-inflammatory medicine and seek the advice of your family doctor. If things aren't getting better within a reasonable amount of time, whatever you consider that to be, it may be time to go see a specialist.

Trinity Health is a Catholic health care organization that acts in accordance with the Catholic tradition and does not condone or support all practices covered in this site. In case of emergency call 911. This site is educational and not a substitute for professional medical advice, always seek the advice of a qualified healthcare provider.
Family doctors are experts in general medicine, a broad specialty that includes diagnosing and treating injuries. For example, many family doctors routinely inject medications into injured joints or draw fluid out of injured joints.
Your family doctor can also give you advice on ways to exercise safely to prevent injuries. If you experience a particularly severe injury while playing a sport, your family doctor may refer you to a specialist, such as an orthopedic surgeon.
Family doctors and specialists often work together to make sure all of a person's medical needs are being met.
Continue Learning about Sports Injuries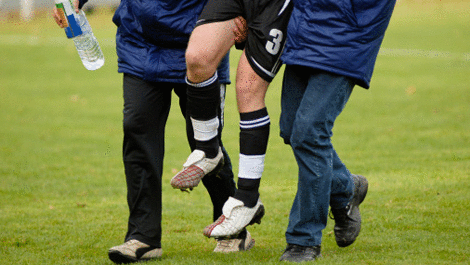 Sports injuries occur during any type of sporting activity. Chronic injuries build up over time by repetitive use during running, weights and sports. Injuries caused by physical trauma - collision, trips and falls - occur during t...
he sporting activity. Learn more about sports injuries from our experts.
More