Recommendations for practice allowance for student athletes include the following:
Practice should be limited to about 18 hours per week.
Practice should not last for more than four hours per day.
Double-day football practices should be limited and not held on consecutive days.
If there are double-day practices, there should be at least three hours of rest between those practices. The only exception to this rule would be for golf, given the long duration of 18 holes of play.
Practice allowance is really important because many youth athletes are over-training, which is leading to burnout as well as overuse injuries.
Continue Learning about Sports & Athletic Performance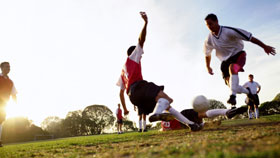 Whether you enjoy football, baseball, hockey or swimming, being in top physical shape will improve your athletic performance and protect yourself from injuries. Each sport comes with its own physical demands on your body. You may ...
need training for balance, flexibility or agility to help you perform at the top of your game.
More