Sport psychology (SP), a subdivision of the field of performance psychology, is the study and application of psychological principles in order to help athletes consistently perform at the height of their capabilities, and more thoroughly enjoy athletics. Sport psychology is an interdisciplinary field that combines psychology with sport science and medicine to help athletes identify, develop, and execute the mental and emotional knowledge, skills, and abilities required for excellence in their sport domain. Sport Psychology consultants' work focuses on psychological skills training, identifying and alleviating performance issues, improving athletes' well-being, team and organizational dynamics, as well as many other intrapersonal and social aspects of sport.
Reference: Portenga, S. T., Aoyagi, M. W., Balague, G., Cohen, A. & Harmison, B. (2011). Defining the practice of sport and performance psychology. Retrieved from http://www.apa47.org/pdfs/Defining%20the%20practice%20of%20sport%20and%20 performance%20psychology-Final.pdf.
Sport psychology is the scientific study of people and their behaviors in sports activities and the practical application of that knowledge. In sport psychology, it's important to understand how psychological factors affect an athlete's physical performance and to understand how participation in sport affects a person's psychological development.
As an academic discipline sport psychology is the study of psychological factors that influence participation and performance in sport. It also examines how these psychological factors are influenced by sport participation and performance. Psychological factors that have been examined include motivation, arousal, anxiety, concentration, confidence, relaxation, burn-out, and team dynamics. A large body of research now exists in these areas leading to efforts to apply the knowledge in areas such as performance enhancement, youth sport, special populations, coaching, and the psychology of injury. The application of the knowledge base of sport psychology has expanded rapidly in the recent past as coaches and athletes at all levels have engaged with professionals in the field. At the elite level the emphasis has tended to be on performance enhancement and the desire to gain a competitive advantage whether at the coach, team or athlete level. Sport psychology professionals have also been active in working to enhance the experience of youth sport participants by educating coaches and parents on how to create developmentally appropriate and adaptive learning environments that have been shown to enhance the quality of the experience.
Mental training, also known as sport psychology or performance enhancement, is similar to physical skills training in that the goal is to prepare athletes to consistently perform their best. While physical training focuses on teaching the body proper execution of skills, mental training focuses on teaching the mind to remove mental barriers that might hinder your performance. Mental training is an individualized program that teaches you how to identify and recreate your ideal mindset in order to perform your best in competition and in practice. Mental training gives athletes the knowledge and ability to control their thinking, their emotions, and, in turn, their performance. Teams can benefit from mental training as well. Mental training gives the individual athlete and teams the competitive edge they need to take their game to a higher level.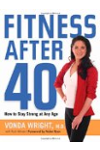 More About this Book
Fitness After 40: How to Stay Strong at Any Age
It's one of the undeniable facts of life. After we reach a certain age, our bodies change. No matter how fit we may have been at 20, we're very different people after 40. But growing older doesn't...
Sports psychology is a discipline concerned with enhancing a person's life skills and sports skills. Sports psychology is not only connected with the things that aren't going right but how to improve on those skills that can be better. Such skills include motivation, focus, concentration, dealing with anxiety, coping skills, etc. to enhance life skills and sports skills.
I have a concept in my depression book Get it Done When You're Depressed called Think Like an Athlete.
Take a moment and think of the qualities that make an elite athlete.
They get out on the field and do their job no matter how they feel emotionally. Yes, there are some who can't do this, but it's extremely rare for successful athletes to miss a game. And you KNOW they have a lot of personal stuff going on in their heads!
How do they do this? I believe they have learned to separate their minds from their physical bodies. You can do this as well. No matter how depressed you are, your body can still move. It doesn't feel like moving. It feels like it's impossible to move, but it's NOT impossible. No matter how depressed you are, you can still trajectory-ize (I just made up this word!) yourself out of bed in the morning. Athletes do.
Elite athletes think differently than most people do. Their psychology is different. When you're faced with a physical task that seems impossible, think what your favorite sports figure would do and copy it!
PS: I'm a football quarterback when times are tough!
Continue Learning about Sports & Athletic Performance