Sport psychology is the scientific study of people and their behaviors in sports activities and the practical application of that knowledge. In sport psychology, it's important to understand how psychological factors affect an athlete's physical performance and to understand how participation in sport affects a person's psychological development.
Mental training, also known as sport psychology or performance enhancement, is similar to physical skills training in that the goal is to prepare athletes to consistently perform their best. While physical training focuses on teaching the body proper execution of skills, mental training focuses on teaching the mind to remove mental barriers that might hinder your performance. Mental training is an individualized program that teaches you how to identify and recreate your ideal mindset in order to perform your best in competition and in practice. Mental training gives athletes the knowledge and ability to control their thinking, their emotions, and, in turn, their performance. Teams can benefit from mental training as well. Mental training gives the individual athlete and teams the competitive edge they need to take their game to a higher level.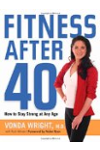 More About this Book
Fitness After 40: How to Stay Strong at Any Age
It's one of the undeniable facts of life. After we reach a certain age, our bodies change. No matter how fit we may have been at 20, we're very different people after 40. But growing older doesn't...
Continue Learning about Sports & Athletic Performance