Most high school student-athletes pass their health screenings and are cleared for sports activity. Those who are identified as having an underlying condition that could be dangerous are sent for additional medical testing.

It is very rare for student athletes to be excluded from participating in sports because of physical exam findings.

This content originally appeared online at Baptist Health South Florida.
Continue Learning about Sports & Athletic Performance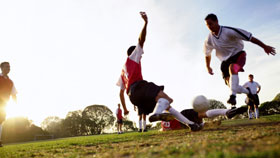 Whether you enjoy football, baseball, hockey or swimming, being in top physical shape will improve your athletic performance and protect yourself from injuries. Each sport comes with its own physical demands on your body. You may ...
need training for balance, flexibility or agility to help you perform at the top of your game.
More