A student athlete health screening includes:
height and weight evaluation
vision tests
blood pressure check
heart (cardiac) and respiratory (lung) screenings
examination of your bones and muscle
One of the most important parts of a student-athlete screening is the personal and family health history. During this part, the doctor asks questions about the student's previous health and the current or past health of his family. Such information can reveal up to 78 percent of medical conditions that could prevent or modify a student's participation in sports.

This content originally appeared online at Baptist Health South Florida.
Continue Learning about Sports & Athletic Performance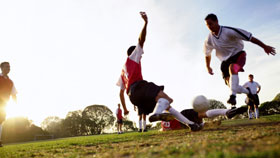 Whether you enjoy football, baseball, hockey or swimming, being in top physical shape will improve your athletic performance and protect yourself from injuries. Each sport comes with its own physical demands on your body. You may ...
need training for balance, flexibility or agility to help you perform at the top of your game.
More