Here are some general tips to help triathletes avoid overuse injuries:
Proper stretching matters more for triathletes. Training for a triathlon requires muscles to endure repetitive motions. Stretching helps your muscles become more elastic. This will make you more flexible over time.
Choose a triathlon that's 12 weeks away or more because you need time to train properly, assuming you're already in good shape and regularly active.
Don't over-do-it with your training. Your body needs time to adapt to new training routines and proper rest is crucial. If you're already fit, do slightly more challenging workouts, instead of just adding workouts.
Schedule your swimming first, since it's the discipline that's most difficult to coordinate. Running is most convenient, so schedule it last. Avoid the same activity twice in a row to keep a balance.
Hydration is important, as is nutrition between workouts, especially while the body becomes accustomed to a shift in routines and intensity.
Do mostly moderate-intensity workouts during the first phase of training for a few weeks. Gradually add high-intensity workouts. Just prior to a race, include race-pace intervals or sprints.
Continue Learning about Sports & Athletic Performance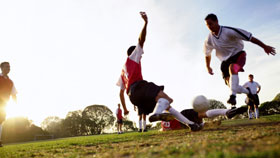 Whether you enjoy football, baseball, hockey or swimming, being in top physical shape will improve your athletic performance and protect yourself from injuries. Each sport comes with its own physical demands on your body. You may ...
need training for balance, flexibility or agility to help you perform at the top of your game.
More