To improve the youth sports experience and increase fun, parents and coaches should remember the "four Ps." Participation (all kids need to exercise); practicality (don't define success strictly by wins; also recognize personal improvement); protection (resist the urge to train too hard, too soon) and performance (redefine "success" as personal improvement instead of winning). Competition can be healthy if approached with knowledge, patience and support.
Continue Learning about Sports & Athletic Performance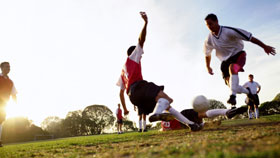 Whether you enjoy football, baseball, hockey or swimming, being in top physical shape will improve your athletic performance and protect yourself from injuries. Each sport comes with its own physical demands on your body. You may ...
need training for balance, flexibility or agility to help you perform at the top of your game.
More