Playing sports brings many benefits, such as improved fitness and better social skills. But pressure to succeed at a young age has mounted in recent years, setting the stage for more physical overuse injuries. Injuries such as stress fractures in children were unheard of years ago but now have become more common.

Pushing kids too hard can also overwhelm the mind. Sports specialization at young ages has penetrated down to the baby crib. Focusing a child's effort on a single sport full-time with the hope of gaining a competitive edge can lead to emotional stress or burnout.

Even good intentions (such as securing an athletic scholarship) can cause harm if they encourage inappropriate activities for a child, produce unrealistic expectations and are not coupled with important knowledge of development. Sports should be what kids do -- not who they are.
Continue Learning about Sports & Athletic Performance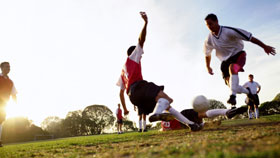 Whether you enjoy football, baseball, hockey or swimming, being in top physical shape will improve your athletic performance and protect yourself from injuries. Each sport comes with its own physical demands on your body. You may ...
need training for balance, flexibility or agility to help you perform at the top of your game.
More