As more casual athletes sign up for triathlons, a misconception lingers about these events and the training required. Many people think working different muscles, also known as cross-conditioning reduces the chance of injury, because the strain is spread throughout the body. But this notion is mostly a myth.

Triathletes tend to switch from a single sport -- most often distance running or cycling -- and add to their training the other two disciplines. But additional workouts without proper pacing and precautions lead to overuse injuries.

Cross-conditioning is important and a key training element for triathletes. But proper preparation, stretching, hydration, periods of rest and other precautions should be taken to avoid overuse injuries.
Continue Learning about Sports & Athletic Performance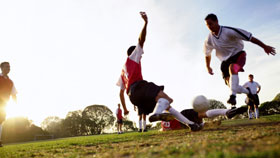 Whether you enjoy football, baseball, hockey or swimming, being in top physical shape will improve your athletic performance and protect yourself from injuries. Each sport comes with its own physical demands on your body. You may ...
need training for balance, flexibility or agility to help you perform at the top of your game.
More