A child may be able to play sports while wearing a cast, says orthopedic surgeon Laurel Benson, MD, of Rocky Mountain Pediatric Orthopedics. In this video, she gives some examples of sports and injuries where participation is possible with a cast.
Continue Learning about Sports & Athletic Performance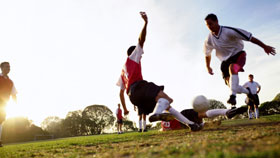 Whether you enjoy football, baseball, hockey or swimming, being in top physical shape will improve your athletic performance and protect yourself from injuries. Each sport comes with its own physical demands on your body. You may ...
need training for balance, flexibility or agility to help you perform at the top of your game.
More