Spirituality is intimately connected with religion, and in fact, is the core of what it means to be religious. Spirituality is distinguished from all those things that result from it – human values, morals, meaning, purpose, peace, connectedness to others, feelings of awe and wonder – by its link to the Transcendent. The Transcendent is that which is outside of the self, and yet also within the self – and in Western traditions is called God, Allah, HaShem, or a Higher Power, and in Eastern traditions may be called Ultimate Truth or Reality, Vishnu, Krishna, or Buddha. The emotions and values listed above are the "fruit of the spirit," not the spirit itself, which is the source of those emotions and values. Spirituality is a process that involves traveling along the path that leads from non-consideration of the Transcendent, to a decision not to believe, to a struggle that involves questioning, to a decision to believe, to a conforming of life to that belief, to devotion and worship of the Transcendent, and ultimately, to total surrender.

Spirituality is a state of being conscious and aware of our place and purpose in the Universe as it relates to the greater good of the highest order. It is a sense of reverence and appreciation; it is a perpetual expression of gratitude; and it is an understanding that we are not just being, we are becoming.
Spirituality means many things to many women. It is often linked to formal religion but does not have to be. Spirituality is about creating a connection and finding meaning in something larger than ourselves. Embracing spirituality can be a transforming, transcendental experience.
There are many paths to spirituality. Many women have a sense of spirituality related to a church, synagogue, or temple; for some of us, our spirituality is grounded in nature. Many of us also find a spiritual connection as we bond with other women and men.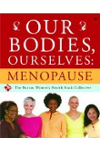 More About this Book
Our Bodies, Ourselves: Menopause
FROM THE EDITORS OF THE CLASSIC "BIBLE OF WOMEN'S HEALTH," A TRUSTWORTHY, UP-TO-DATE GUIDE TO HELP EVERY WOMAN NAVIGATE THE MENOPAUSE TRANSITION For decades, millions of women have relied on Our...
Continue Learning about Spirituality and Religion