Most of us have had times where we feel like we are connected or in the flow. It could be during prayer, participating in sports, being in nature, listening to music, etc. At these times, you are centered. Interestingly, centering in different parts of the body can be associated with different feelings. I like to center in my solar plexus to check in on my feelings, and in my heart to assist with healing or wholeness. I know when I am centered in my heart center because I feel four qualities when I am there. Those qualities are compassion, harmony/connection with everything, a healing presence, and a feeling of unconditional love (e.g., what a parent feels toward a newborn child).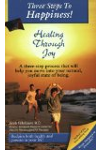 More About this Book
Three Steps to Happiness! Healing Through Joy
Happiness is our natural state of being. It is who we are. This happiness is obvious when you look at little children before they take on society's beliefs. Their natural state is to feel all of...
Continue Learning about Spirituality and Religion