To center in your heart, take a deep breath and relax as you exhale. Allow yourself to relax further with each breath. Put the palm of one hand over the top of the other hand (so the tips of your thumbs touch) and put them both over your chest bone. Have the center of your palms be approximately three finger widths above the solar plexus. Then focus your attention in that area of your chest while feeling for the four qualities of compassion, harmony/connection with everything, a healing presence, and a feeling of unconditional love. When you feel these qualities, you are heart-centered. While doing this, it may help to think about someone you unconditionally love.
To center in your emotions or feelings, move your palms and attention down over your solar plexus. Centering in either one (or both) of these two places can be used to see what feels best for you.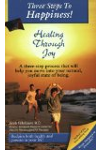 More About this Book
Three Steps to Happiness! Healing Through Joy
Happiness is our natural state of being. It is who we are. This happiness is obvious when you look at little children before they take on society's beliefs. Their natural state is to feel all of...
Continue Learning about Spirituality and Religion