In looking around, it has become apparent to me that God is much more than our minds can grasp or our words can contain. Since we know that our language is too limited to express the full nature and being of God, we can explore possibilities without needing to believe that our idea of God is the only truthful one or that it is better than anyone else's ideas. This gives us the freedom to be wrong and to have our concept of God continue to grow along with us because our words and thoughts cannot contain the full image, glory, and understanding of God and all that exists.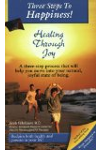 More About this Book
Three Steps to Happiness! Healing Through Joy
Happiness is our natural state of being. It is who we are. This happiness is obvious when you look at little children before they take on society's beliefs. Their natural state is to feel all of...
Continue Learning about Spirituality and Religion