Interestingly, both many of the older religions and new spiritual books and teachings, such as Conversations with God, the Abraham Materials, and Love Without Conditions, are teaching the same things. Those teachings are:
1. We all create and are fully able to manifest whatever we choose through our beliefs, feelings, and focus.
2. We are each fully creating our own personal experience and no one can assert themselves into our lives unless we "invite them in" through our thoughts, feelings, and beliefs. Because of this, there are no victims.
3. We are all one.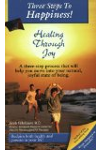 More About this Book
Three Steps to Happiness! Healing Through Joy
Happiness is our natural state of being. It is who we are. This happiness is obvious when you look at little children before they take on society's beliefs. Their natural state is to feel all of...
Continue Learning about Spiritual Therapies