Tithing is used in a number of health- and spiritually related ways:
To demonstrate gratitude for the blessings of life and energy.
To demonstrate proper attitude and humility.
To build up good karma credits.
To atone for past bad actions or to work out bad karma (particularly if you are unable to reconcile with someone in person).
To help accelerate self-healing of ailments that are at least partially attributable to bad karma.
To plant the seeds of good health, happiness, prosperity, and spiritual fulfillment.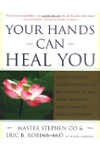 Continue Learning about Spiritual Therapies