Here are a couple of tips to deal with these problems:
Practice good energetic hygiene. Take a salt bath, eat energetically clean foods, and take cleansing and energizing herbs or supplements to kick-start your energy when you're tired. Good energetic hygiene builds up your strength and also gives your willpower a boost. This enables you to take more forceful self-healing steps.
Acknowledge your situation. As you've read, it's not productive to deny or suppress your negative emotions. It's the same with your physical condition. If you have an extremely sore back, telling yourself over and over "My back is fine" isn't positive mental attitude or reinforcement. It's self-delusion and actually self-defeating because your unconscious mind knows your back isn't right. You can't ignore your current health circumstances. Be clear-eyed about your situation. If you're weak, hurting, or tired, acknowledge it but don't focus on it or be obsessed with it. Be objective.
Perform pranic breathing and cleansing physical exercises. This will build up your willpower and strength.
Sweep and energize your ajna. This will also build up your will. Sweep your ajna 50 times (10 sets of five counterclockwise sweeps, alternating green and violet) and then energize it with white prana for 10 cycles of pranic breathing. This reinforces your resolve to take further self-healing action.
Finally, don't hesitate to seek out traditional medical advice. We advocate a complementary approach to healing that includes both traditional and alternative methods. Many traditional remedies have a basis in energetic truth - for example, highly sensitive healers who can see energy in its various colors note that ibuprofen is filled with luminous bluegreen prana, which is the optimal color prana for reducing inflammation. For some problems, you may need a procedure or a prescription to supplement your own self-healing. So don't hesitate to seek the advice of a physician or traditional health care practitioner if necessary.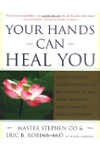 Continue Learning about Spiritual Therapies