We have such an interesting relationship with nature. We live as if we are separate from nature. Sometimes it is as if we are afraid of nature because it is one thing we know we can't control. Other cultures know that we are one with nature. The Native Americans, the Asians, the Indians, the Africans - all believe our body systems are directly connected to the seasons of the year and the daily weather. These cultures have great respect for nature and the power she exerts within our bodies and around us at every moment. These cultures know that when we destroy our natural environment we destroy our inner bodies. Our planet is the macro system of nature and our bodies reflect the micro system of exactly the same processes, elements, and chemicals. We are wonderfully and intricately woven together. Our bodies occupy a tiny short cycle of life within the greater dynamic cycle of life of the planets and our solar system.

Our diseases - physically, emotionally, and spiritually - come from separating ourselves from the natural rhythms of nature. If we are one with nature, why do we think we can create lives that move faster than the natural cycle of life? When we attempt to orchestrate time according to our needs and desires we disconnect from the natural cycles of life.

When you live in nature with great awareness, many times she will tell you what to expect. Many of us have lost our deep awareness and our intimate relationship with nature because of our busy lives or our urban dwelling. I really believe that when we disconnect from nature we lose our reverence and awe for all of life.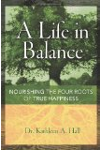 Continue Learning about Spiritual Therapies