Each bone in your spine is attached to and at the same time separated from the one above and below by an intervertebral disc. The discs are cylindrical structures made up of a thick, multilayered outer ring called the annulus fibrosis and an inner cushioning jellylike substance called the nucleus pulposus. The outer ring has between ninety and a hundred layers, each composed of diagonally oriented collagen fibers arranged in alternating angles from the adjacent layer. These layers give the ring great strength and holding capacity, with a flexibility that allows you to bend and turn.

An intervertebral disc works much like a tire, although turned on its side. Your discs support the weight of your body while allowing the bones to virtually float upon each other. The outer rings of the disc act like the tread wall, and the nucleus resembles the inner tube filled with air. The entire disc functions as both radial tire and shock absorber, allowing movement in all directions while providing the strength to keep you erect. The outer layers of each disc firmly attach to the outer portions of the bones and effectively hold your spine together.

The inner jellylike substance of an intervertebral disc (the nucleus pulposus) acts just like the cushioning fluid in a shock absorber. In response to your position or load, it moves around within the disc to distribute both weight and force. The outer ring (the annulus fibrosis) has tiny nerve fibers similar to those found in joints, and these nerves can be a source of pain if the rings become disrupted or distended.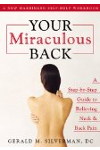 Continue Learning about Spine