Being overweight is probably the most common cause of lordosis (swayback) when much of the weight has collected around the abdomen. A protruding gut tends to pull on the lower back. Weight loss and appropriate exercises, particularly those that strengthen the abdominal muscles and stretch tight muscles, will decrease lordosis. Shortening your stride when you walk or jog may also help. And If you do speed work, make sure you're thoroughly stretched beforehand.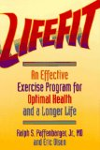 Lordosis, or an arched low back, is a very common issue. It can be caused by weak core musculature. If the transverse abdominis (the deepest abdominal muscle) is weak, it cannot support the spine as necessary. The transverse abdominis is like the big rubber band that one might find around bunches of broccoli. It's job is to hold everything in and provide support.
Another cause of lordosis is tightness of the hip flexors. This is very common in individuals who do a lot of sitting. Tight hip flexors will pull the top of the pelvis down toward the front of the body, much like tipping a bucket.
There are a number of exercises that can be performed to improve lumbar lordosis; the Plank, the Floor Bridge, and practicing the "drawing-in maneuver" are only a few exercises to strengthen the core musculature. Also, one can improve the flexibility of the hip flexors to correct the tilt of the pelvis. Exercises like the Kneeling Hip Flexor Stretch and the Standing Hip Flexor Stretch will be beneficial, as will performing self-myofascial release on the fronts of the thighs.
Continue Learning about Spine