People with spine extension problems have spines that extend very well. In fact, they extend so well that their spines are almost stuck in that position. In other words, they have a difficult time flattening or flexing the spine.

To correct your bending and straightening pattern if you have a spine extension problem, draw your belly button in toward your spine and bend forward while visualizing that your spine starts flexing at the top vertebra, then flexing at the next vertebra down, then the next, and so on until you are completely bent over. This allows your spine to flex while bending forward instead of remaining in extension. The result should be that you experience less pain while bending down. Even though this is an exaggerated movement, it employs the proper biomechanics necessary to correct poor movement habits while bending forward.

To return to an upright position, draw your belly button in toward your spine and reverse the direction in which you bent over: Visualize the pelvis moving into a posterior pelvic tilt first (when returning to an upright position from a bent-over position, the pelvis should tuck underneath you), then the next vertebra up, and so on as if you are stacking one vertebra at a time on top of the other. Continue until you are standing tall again. You should feel that you are holding on to that nice flexion stretch as you come back up. You will notice that your back feels less pain while returning like this.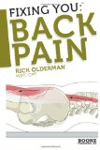 Continue Learning about Spine