While it is based upon some of the tenets that underpin both acupuncture and chi kung, Pranic Healing is easier to learn and use. As in acupuncture, Pranic Healing works with the meridians, but unlike acupuncture Pranic Healing concentrates on only the largest meridians, along which the major chakras lie. Hundreds of other, smaller meridians crisscross the body, but by performing focused energy work on the large meridians, which feed the others, pranic healers can achieve more effective results in a much shorter period of time. And of course, pranic healers, unlike acupuncturists, needn't study for years to learn the location and path of those smaller meridians and which organs and parts of the body they energize.
There are numerous chi kung schools and thus many types of chi kung healing techniques. Chi kung routines, or "sets" of physical and breathing exercises, were developed by Chinese monks centuries ago to supplement their spiritual development and martial arts training, and also to facilitate physical healing. The biggest differences between chi kung and Pranic Healing lie in their energy-generation philosophies and the length of time needed to become proficient in the practice. Chi kung relies on internal generation of energy, which means that students learn techniques to help them build up and store energy within their body. They then tap this surplus for meditation, spiritual development, fighting, and healing. Pranic Healing, by contrast, is an external-generation system. Students are taught powerful techniques that enable them to draw in energy from outside the body and then project it into areas of deficiency for healing. Thus, pranic healers don't have to worry about their energy battery "running down." Pranic healers also don't have to spend years learning and practicing complex physical exercises and breathing patterns to build up the level of internal energy needed to heal effectively.
Finally, missing from nearly all other energy medicine systems are two cornerstones of Pranic Healing: the methodical use of colored pranas, which focus and greatly accelerate the healing process, and energetic hygiene, or rules and practices for avoiding energetic contamination and keeping the practitioner's personal energy tank clean and full.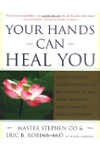 Continue Learning about Specific Mind-Body Treatments