Pranic Healing teaches that illness and health problems result from disturbances to the flow of prana through a network of power centers, passageways, and energy fields that interpenetrate the physical body called the energetic anatomy. Your energetic anatomy, also called your energy body, or simply, your aura, is a three-dimensional cloud of prana that begins inside your physical body and emanates outward in all directions to form a rough outline around your body.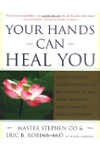 Continue Learning about Specific Mind-Body Treatments
From meditation to prayer, there is an array of mind-body treatments which help one find peace and healing.