Positive feedback helps your progress. If you are fortunate enough to be learning this material with someone else, here is a two-person exercise that will easily and quickly enable you to learn whether, when you project energy, you're drawing prana in through your chakras from outside your body or using your own supply.

Stand for this exercise. Have your partner stand behind you at an angle that will enable him to scan your basic chakra. We use the basic chakra because it's easy for a partner to scan. The exercise steps are written as if you were projecting prana and your partner were testing you, but you should test each other. Both of you should perform a standard warm-up.
1. Establish a target for your visualization: a sheet of paper, the wall, or just visualize your target. The target should be 1 to 2 feet in front of you.
2. Have your partner scan your basic chakra before you begin projecting prana, so you know its size and strength before starting the test.
3. Tap your source chakra, the basic, which is located at the base of the spine, twice lightly with your nonprojecting hand to focus your attention and help establish your intent.
4. Raise your projecting hand toward the target in the proper posture. Just keep your other hand at your side, or on your hip or in your pocket.
5. Project a pastel ring of red prana with a bright white center 4 to 6 inches in diameter onto your target for four cycles of pranic breathing. Keep your awareness lightly on the source and projecting chakra.
6. As you project, have your partner scan your basic chakra again, both its width and its depth. If you are drawing prana in through the basic, your partner should feel the basic chakra expand and strengthen. If you are drawing prana from your own body, your basic chakra will remain unchanged, or it may shrink.

If you aren't drawing in prana through your basic, just relax and continue your practice. Reinforcing your intent periodically to draw in prana as you energize is all it takes to get the flow of prana started.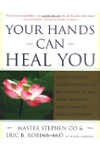 Continue Learning about Specific Mind-Body Treatments