For this exercise, you'll use the front solar plexus chakra as your target.
Stand for this exercise. Perform your standard warm-up. Then proceed.
1. Scan your subject's front solar plexus chakra and note any energetic disturbances.
2. Reestablish your intent by silently declaring to yourself that you intend to sweep and clean away the dirty prana from the front solar plexus. Remember to keep your tongue on the roof of your mouth and continue with pranic breathing as you sweep.
3. With your dominant hand in the slightly cupped sweeping position and 4 to 6 inches from your subject's front solar plexus chakra, begin sweeping with a tight counterclockwise motion of the wrist in sets of five. Remember how to determine counterclockwise: It is as if a clock facing outward were on the body part on which you are working. One second per revolution is a good pace. After five revolutions, pull your hand down and away and flick it into the salt water. After every two sets of five sweeps (10 total), spray your hand with alcohol.
4. As you sweep, be aware of any heavy or sticky feelings. Even though a chakra is a smaller target than an arm, a leg, or the torso, there can still be pockets of congestion within the chakra. Zero in on any you find, and remove them by reinforcing your intent and sweeping through those areas with more will.
5. Add visualization, if you wish. See light beams extending from your fingers and penetrating several inches into the chakra to scrape out grayish-brown dirty energy.
6. Repeat this sequence of two sets of five counterclockwise twists five more times, which will give you a total of 60 sweeps of the front solar plexus chakra.
7. If at any time you feel like you're losing your intent or hand sensitivity, take a break, walk around, and do the appropriate exercises.
8. Rescan the front solar plexus chakra to see if there's been any reduction in the amount of congestion.
9. Cut the cord when you are finished.
10. Conclude the exercise by shaking your hands and spraying them with alcohol again. Take a few pranic breaths and relax.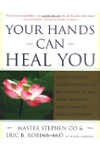 Continue Learning about Specific Mind-Body Treatments