You may sit or stand during this exercise. Perform your four-step warm-up, then proceed.
1. Use your preferred visualization method to project an image of yourself out in front of you. Turn it around so that you are facing the back of your image.
2. Locate your back solar plexus chakra. Tune in to your target and form your intent to scan. Here is another way to increase your sensitivity when scanning a visualization: Repeat your name three times before beginning - for instance, "John Smith, John Smith, John Smith." This is a simple but extremely powerful technique for increasing sensitivity. At this point in class, students first scan the back of their aura for congestion or depletion without any special instructions. Then they are instructed to say their own name three times before scanning, then repeat the scanning exercise. Invariably, the students find that all tactile sensations - pressure, temperature, tingling - are much more distinct.
3. Breathe slowly and deeply, using pranic breathing. Once you have looked at your target chakra to establish your intent, keep your awareness on your scanning hand throughout the rest of the scanning exercise. Keep a positive, open-minded attitude.
4. Raise your scanning hand, and with your palm open and your wrist loose, begin scanning by moving your hand toward your targeted spot. Scan your back solar plexus chakra in the same way you scanned your front solar plexus chakra, feeling for its depth, strength, and width.
5. It requires more concentration to scan a visualization, so go slowly, breathe deeply, and keep your awareness on the palm chakra of your scanning hand.
6. When you're finished scanning your back solar plexus chakra for depth, strength, and width, take a moment and jot down your impressions. Then either move to scanning the next back chakra or, if you need to take a break, take a few deep breaths and walk around for a minute or two.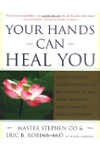 Continue Learning about Specific Mind-Body Treatments