I try to promote a healthy whole foods diet rich in vegetables, proteins, healthy fats and fruit as desert! Eating breakfast and every few hours is important to not only have a good metabolism, but also to feel well! Organic as possible, avoiding processed foods and refined carbs just makes sense. Portions and carbohydrates are dictated by your body type and activity level. You can read more at womentowomen.com
More and more evidence is accumulating about the dangerous health effects of pesticides, food additives, and other contaminants of our food supply. In addition, there is growing concern about the potential harm of irradiated and genetically modified foods. The bottom line for a health-promoting diet is to reduce the intake of these potentially harmful substances, foods laden with empty calories, additives, and artificial sweeteners, and replace them with natural foods, preferably organically grown and non-GMO. As for our water supply, its safety is also being scrutinized, for good reason. Check your water supply to make sure it is safe. If it is not, invest in a home water purification unit that will remove the impurities.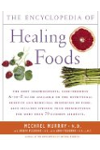 More About this Book
Encyclopedia of Healing Foods
From the bestselling authors of The Encyclopedia of Natural Medicine, the most comprehensive and practical guide available to the nutritional benefits and medicinal properties of virtually everything...
Continue Learning about Special Diets