The FODMAPS elimination diet is based on limiting "FODMAPS" in the diet. FODMAPS stands for Fermentable Oligo-, Di- and Mono-saccharides And Polyols. Specifically, some of the dietary carbohydrates described by the term FODMAPS are lactose, fructose, fructans, polyols and galactans. These are sugars, starches and fibers in food that some people cannot fully digest and absorb.

Fruits are the most limited food group on this elimination diet. You may be eating less fruit than usual on the diet. You can make up for this nutritionally by eating more vegetables, since fruits and vegetables provide many of the same nutrients.

Fruits with more fructose than glucose are not allowed on the basic diet. Fruits with a large quantity of polyols are not allowed on the basic diet. Fruits containing fructans are not allowed on the basic diet. Fruits are allowed if the fructose and glucose in the fruit are balanced (less than .5 grams excess/100 grams of food), the total fructose per serving is not too high and they are low in polyols and fructans.

A note about bananas: as they ripen, the starches (polysaccharides) in the banana are converted to sugars. The sugars are balanced, so ripe bananas in a limited portion are allowed on the basic diet. Clients often report that bananas cause constipation. Ripe bananas are likely to be better tolerated.

The serving size is critical for this food group.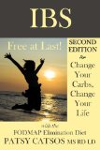 Continue Learning about Special Diets