Dr. Oz, Vice-Chair and Professor of Surgery at Columbia University, says the positive effects of getting enough fiber will happen "almost immediately." The fiber can help move things through your system -- including toxins -- very quickly. And that's not all. "Bile, when it gets absorbed through the bowel, turns into cholesterol. So when you take a lot of fiber in your diet, you suck the bile out of you, and your cholesterol drops automatically. It also gets rid of sugar, which helps the diabetics. And it's a great tool if you want to lose weight because it makes you feel full."
Do you need to get more fiber in your diet? Most likely, Dr. Oz says. The average American gets just seven grams of fiber a day. But women need about 25 grams a day, and men need 35 grams a day. "That's somewhere between seven and nine helpings of fruits and vegetables," he says.
If you radically increase your intake of fiber, though, you may feel gassy. "Your intestinal tract isn't ready for it," Dr. Oz says. "The fiber in the bowel is permeated by all these bacteria, the bacteria eat the fiber, and they make gas. That's their waste product. So you've got to slowly build up when you add fiber to your diet. But at the end of the day, you're going to have some gas. But it's a good sign because you're digesting food that's good for you."
This content originally appeared on
doctoroz.com.
Watch as gastroenterologist Dr. Robynne Chutkan discusses how a high fiber diet helps with digestion and how it also works to lower cholesterol levels.


Gut-friendly bacteria use fiber as their main food source, hence the recommendation to eat plenty of fruits, vegetables, and whole grains, such as oats, barley, whole wheat, and popcorn. Fiber also aids the passage of food and waste through the gut. Aim for over 20 grams of fiber a day. But go slowly: increasing your fiber intake too quickly can cause gas and bloating.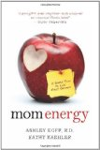 More About this Book
Mom Energy: A Simple Plan to Live Fully Charged
       From celebrated dietitian Ashley Koff and fitness trainer to the stars Kathy Kaehler comes Mom Energy, an exciting new way for moms to tap into their own natural and renewable sources of...
Continue Learning about Special Diets