You could and even should live your whole life on a low-salt diet. People with heart and kidney problems or high blood pressure live permanently on low-salt diets without suffering harmful effects.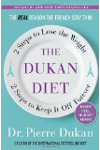 Like fat, salt is another example of a demonized compound. While our hearts can't beat without it, too much sodium can increase blood pressure to dangerous levels -- but only in 10% of the population, with African Americans being particularly sensitive. The only way to know for sure if you're salt sensitive is to check your blood pressure after you consume salt and compare it with when you've been relatively salt-free.

But even if your numbers stay within a healthy range, don't go crazy with the saltshaker. Sodium mingles with other elements in processed foods and stimulates our appetite, so it can help pack on pounds. The good news is that almost all hypertensive people, i.e., those whose resting blood pressure is more than 140/90, will benefit from reducing their salt intake -- a simple step that translates to an average of five extra years of life for the typical 55-year-old. Replace your salt shaker with a sodium-free alternative. We all know that hypertension can lead to heart problems, but new evidence suggests that decreasing the salt in your diet can also improve blood flow to the brain and decrease dementia.
Continue Learning about Sodium