Soccer is an explosive sport and it is wise to include some Olympic lifts into the performance training program. Olympic lifts are great for teaching force application and triple extension to athletes. Every soccer player needs to develop the ability to apply force quickly and be able to triple extend from the hips, knees, and ankles. When performing Olympic lifts, proper technique is paramount. Spend time learning the technique and form of these lifts before adding any weight or resistance. The first lift to learn is the hang clean pull. The hang clean pull is the first part of the hang clean, just taking away the catch portion. To execute the hang clean pull get into a power athletic postion with your weight on your heels. Hold a barbell just above your knees while pulling it into your thighs. In one explosive movement, drive into the ground with your heels and extend from the hips, knees, and ankles while shrugging your shoulders. Try to pause at the top for a half of a second and return to the starting postion for another repetition. Perform 5 repetitions for 3 to 5 sets, giving yourself 90-second to 2-minute rest breaks. You should take time to build your confidence and improve your technique with this lift before advancing to the hang clean. Remember seek help from a qualified fitness professional or coach to help teach and observe you when performing this lift.

Continue Learning about Soccer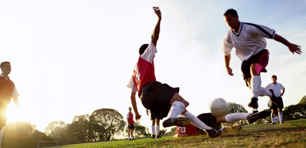 Soccer is a team sport that tests reactivity, speed, and endurance. Conditioning is important due to the fast-paced nature of the game. Agility drills help soccer players deal with the constant change of directions. Stretching and ...
hydration is essential to avoid injuries, cramps, and muscle sprains while playing soccer.
More