Children frequently snore. If your child snores heavily, seems to have pauses in his breathing or appears sleepy during the day, bring him to see his doctor. Some children have sleep apnea, which is a pattern of reduced breathing that should be treated.
About 16 percent of kids snore, sometimes a few times a week. If you hear snoring or loud breathing from a kid, alert your pediatrician. Sleep apnea (episodes of interrupted breathing during sleep) is becoming more common in children, especially in those who are overweight.
From The Smart Parent's Guide: Getting Your Kids Through Checkups, Illnesses, and Accidents by Jennifer Trachtenberg.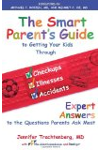 Continue Learning about Snoring