The right carbohydrates can be part of a healthy diet, but if you choose to forgo them, here are some recipes.
1 / 9
We get it, many low-carb diets are all the rage as of late. But contrary to popular opinion, carbohydrates in and of themselves don't cause weight gain, nor is this macronutrient a bad one to eat. In fact, carbohydrates are the body's main source of energy, and fit seamlessly into a healthy diet.
Sure, some unhealthy eats, like sugar-sweetened soda and candy, contain loads of carbs, but fruits, vegetables, beans and whole grains also tend to be high in carbohydrates—the healthy kind.
You needn't swear off carbs to slim down or live a healthy lifestyle the way many folks do. But whether you've chosen to embark on a low-carb diet to help with weight loss or are limiting your carbohydrate consumption for other health reasons, there are some wholesome low-carb snack options to help sate between-meal cravings. These nibbles are relatively low in calories, too, so they're smart snack choices if you're looking to whittle your waistline—whether you're cutting carbs or not.
Medically reviewed in July 2018. 2 / 9

Chia seed pudding

This creamy treat delivers some of the same flavor as a typical cup of pudding, with fewer carbohydrates and less added sugar.

A 4-ounce serving of a typical store-bought chocolate pudding contains roughly 150 calories and almost 25 grams of carbohydrates. And let's face it, the small serving just isn't that filling.

Instead, combine 3 tablespoons of chia seeds with a cup of unsweetened vanilla almond milk and a tablespoon of unsweetened cocoa powder. After a good stir, the seeds need time to soak in the liquid, so let your pudding chill overnight or for a few hours in the refrigerator. The resulting mixture contains 180 calories and 16 grams of carbs, but yields an 8-ounce cup of pudding, twice as much the store-bought cup!

Nutritional bonus: Chia seeds are also rich in unsaturated fats, which research suggests can help keep you fuller, longer. Not a chocolate lover? Skip the cocoa powder and add a teaspoon of vanilla extract instead, which cuts 2.5 grams of carbohydrates from the final product.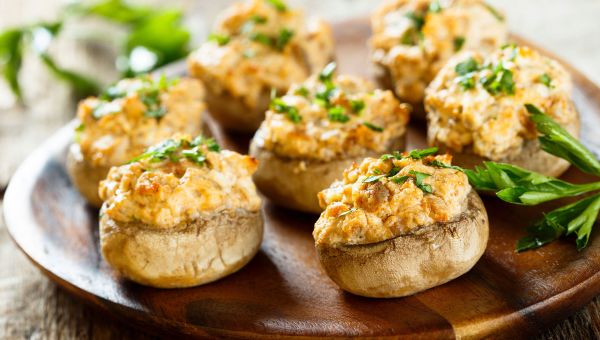 3 / 9

Crab-stuffed mushrooms

They may sound fancy, but this recipe is simple to whip together. Mushrooms are part of the non-starchy veggie group, and you can nosh 10 small caps for fewer than 25 calories and just 3 grams of carbohydrates.

While these fungi are tasty on their own, they're even better stuffed with a combination of lump crab meat, herbs and spices. In a small bowl, combine 3-ounces of crab meat, a teaspoon of olive oil and a sprinkle each of thyme, paprika, oregano, salt and pepper. Crab meat is sold frozen and can often be purchased fresh from your supermarket's seafood counter. Either one will work for this recipe.

Place a bit of your mixture into six small washed and destemmed mushroom caps and sprinkle the batch with a tablespoon of grated parmesan cheese before baking at 350 degrees Fahrenheit for 15 minutes. A six-cap serving contains 157 calories and just 2 grams of carbohydrates. 4 / 9

Sweet and spicy roasted nuts

Most nuts—like pecans, walnuts and almonds—are low in carbohydrates. Per 1-ounce serving, almonds contain 6 grams of carbs and pecans and walnuts each have about 4 grams. They're easily transported and can be munched anywhere, too. Sure, you can grab a handful of regular mixed nuts before settling into the couch or on your way out the door, but this simple recipe will take your noshing to a whole new level.

In a medium bowl, combine 2 cups of your favorite nuts, a tablespoon of olive oil and half a teaspoon each of chili powder, ground cumin, black pepper, salt, paprika and cinnamon.

Spread your coated nuts onto a baking sheet lined with parchment paper or foil and roast for 10 to 15 minutes at 350 degrees F, stirring halfway through. Allow your nut mixture to cool completely and store in an airtight container.

The recipe can be divided into 12 single-serve baggies for effortless snacking anywhere, anytime. Protein, carbohydrates and calories will vary based on your chosen nuts, but a serving of this recipe—made with a combo of pecans, almonds and walnuts—delivers 131 calories, 3.5 grams of carbs and 3 grams of protein. 5 / 9

Tuna and cucumber bites

If you've long been a lover of tuna salad sandwiches, going low-carb can be a challenge. A single slice of white bread contains 15 grams of carbohydrates and about 80 calories. To make tuna salad, canned fish is also typically mixed with mayonnaise, which —although it's carb-free—adds a whopping 90 calories per tablespoon.

You can slash carbohydrates and calories by layering a healthier version of your favorite seafood salad on thin slices of crunchy and hydrating cucumber. Mix 3 ounces of canned and drained light chunk tuna with a tablespoon of mashed avocado and sprinkle in flavors like black pepper, paprika and chili flakes.

A quarter cup cucumber slices topped with all 3 ounces of your tuna and avocado mixture contains just 130 calories and 3 grams of carbohydrates. The afternoon nibble also contains 2.5 grams of unsaturated fats, which can help improve blood cholesterol levels—increasing the good and decreasing the bad. "Good" (HDL) cholesterol helps wick unhealthy cholesterol from the blood to the liver, where it's expelled from the body. Too much LDL, or "bad" cholesterol, can clog the arteries and increase your heart disease and stroke risks. 6 / 9

Cauliflower tots

Tater tots—typically made with a blend of potatoes, flour and a variety of seasonings—were a childhood favorite for many, but the ingredients are far from low-carb. One small potato contains almost 30 grams of carbohydrates and traditional tots are fried too, which adds loads of calories to your snack or side.

But this recipe for baked cauliflower tots eliminates a ton of carbs and greasy calories. In a food processor, combine 2 cups of boiled and chopped cauliflower, one large egg, 2 tablespoons of finely chopped white onion and half a cup of grated parmesan cheese. Next, stir in your seasonings, like salt, pepper and fresh parsley.

Roll tablespoons of your mixture into oval-shaped tots and place on a lined sheet pan, about half an inch apart. Bake your bites for 20 to 30 minutes at 350 degrees F, flipping once. Per 8-tot serving, this snack offers 88 calories and fewer than 4 grams of carbohydrates. 7 / 9

Zucchini chips

These low-carb crisps require just three ingredients to create: zucchini, olive oil and salt. Preheat your oven to 250 degrees F while you prep your chips. Very thinly slice one large zucchini into rounds and place between two paper towels. Press your covered slices to draw out excess moisture from this water-rich veggie—this will help them crisp up a bit faster.

Next, lay your zucchini slices in an even layer on a baking sheet (or two) covered with parchment paper, brush them with a tablespoon of olive oil and sprinkle with just a bit of salt. Pop your trays into the oven and allow to cook for about 2 hours, more if your chips are still soft to the touch after that time. Once cool, you're ready to dig in!

Enjoy them all on their own or dip them into a mixture of a tablespoon of plain, nonfat Greek yogurt mixed with a touch of lemon juice, salt, pepper and half a teaspoon of fresh dill. Half a batch of zucchini chips—with dip—contains 95 calories and 6 grams of carbohydrates. 8 / 9

Buffalo chicken dip and celery sticks

Protein is a good low-carb fuel, but ever-popular chicken wings are typically dredged in flour—adding unnecessary carbs—before hitting the fryer—adding unnecessary fats—and getting served up with calorie-rich dips. But turning the elements of a chicken wing into a creamy dip—accompanied by celery dunkers—helps reduce the excess carbohydrates and calories.

To whip this snack together, combine 3 ounces of shredded white meat chicken, 2 tablespoons of hot sauce and a tablespoon of shredded cheddar cheese. Heat on the stovetop or in the microwave until cheese melts and ingredients are combined. You can bake, roast or grill your chicken breast before shredding it, or pick up a rotisserie chicken. In a pinch, the canned kind works, but choose the variety packaged in water.

This dip, served with two medium-sized celery stalks, contains 180 calories and 3 grams of carbohydrates. If you're also monitoring your sodium intake, scale back the hot sauce, which typically contains 190 milligrams per teaspoon. 9 / 9

Yogurt-dipped berry skewers

Sure, some fruits, like bananas and mangoes, are carbohydrate-rich, but others, like berries, have far fewer grams of carbs per serving. Per half cup, raspberries contain 7 grams of carbs, blueberries have just over 10 and strawberries, 6 grams.

To put these treats together, thread a half cup of berries onto a wooden skewer and coat with 2 tablespoons of plain, nonfat Greek yogurt. Place your fruity sticks in the freezer, where they can be stored in an airtight container until you're ready to enjoy.

A 2-tablespoon serving of yogurt adds just 15 calories and less than 1 gram of carbs to your fruit, making a strawberry skewer 40 calories with 7 grams of carbs, a blueberry pop 60 calories and 11 grams of carbohydrates and a raspberry-rich treat 47 calories with 8 grams of carbs.
Continue Learning about Snacking and Weight Loss