One rule I abide by is to eat enough at meals to reduce the urge to snack. A common mistake is to eat too little during meals, then snack whenever there's food. Let's be honest: usually these snacks aren't healthy choices.

Nonetheless, healthy, planned snacking can ward off hunger between meals. Keep the snacks to fruits, vegetables, yogurt, small amounts of cheese or small amounts of nuts. These foods have all the nutritional benefits and will raise your blood sugar slowly so that you'll feel full longer. I call this "power snacking."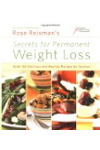 Mindless munching is the downfall of many dieters, but the right snacking decisions can help you lose weight and keep it off. In this video, television personality Rosie O'Donnell shows Dr. Oz the smart substitutions that helped her lose 15 pounds in two months.
Continue Learning about Snacking and Weight Loss