What should I eat while quitting smoking?
Don't stress over your eating pattern. Just try to make healthy food choices as you begin to increase your exercise. Any small changes will help. Here are some tips to get you started today:
Replace high-calorie foods with healthy low-calorie ones such as fresh fruits, vegetables, juices, yogurt, or air-popped popcorn without butter Eat sugar-free candy or juice pops or chew sugar-free gum Choose foods that take longer to eat and keep your hands busy such as oranges or sunflower seeds Try crunchy foods such as pretzels and rice cakes so your mouth has to work Drink water before and between meals.
This answer is based on source information from the National Cancer Institute.
Continue Learning about Smoking Treatment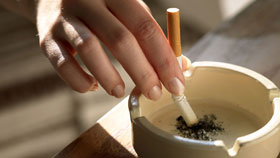 If you have an addiction to smoking, it is best to recognize the problem and work on a plan to stop smoking for your overall health improvement. To quit smoking, you can create motivational tips for weaning yourself off cigarettes ...
by a certain date and replacing that habit with a healthier habit such as walking or chewing sugar-free gum. Learn more from our experts how to create a cessation plan.
More