Quitting smoking can be an incredibly daunting challenge. The odds of success if you go at it alone -- that is, if you don't take medication or join a smoking-cessation program -- are very low. Only about one person in 20 who quits smoking manages to last a year or longer without picking up a butt or cigar again.
Maybe you're one of the lucky ones. However, studies show that medications such as bupropion and varenicline, as well as nicotine-replacement therapy, dramatically increase your odds of succeeding when you try to quit smoking. Medications are especially effective when combined with behavioral treatments from a mental health professional. Your doctor can explain how these drugs work and whether one of them is right for you.
Most smokers can quit on their own without using prescription or over-the-counter medications. These successful quitters find that having a plan is generally helpful, beginning with establishing a quit date. Some find that therapy, either individual or group, is helpful as are support groups.

Yes, you can get counseling, use hypnotherapy, or join a support group.
Yes, but it is difficult because the cravings get you initially and then the psychological problems get you longer term. That is why behavioral therapy combined with exercise, pills, and patch are so much more effective.

Continue Learning about Smoking Treatment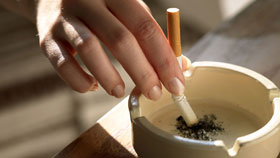 If you have an addiction to smoking, it is best to recognize the problem and work on a plan to stop smoking for your overall health improvement. To quit smoking, you can create motivational tips for weaning yourself off cigarettes ...
by a certain date and replacing that habit with a healthier habit such as walking or chewing sugar-free gum. Learn more from our experts how to create a cessation plan.
More