Smoking is one of the hardest addictions to break. Watch this video for tips from Dr. Oz on ending the nicotine habit.
Continue Learning about Smoking Treatment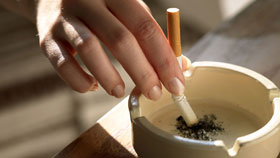 If you have an addiction to smoking, it is best to recognize the problem and work on a plan to stop smoking for your overall health improvement. To quit smoking, you can create motivational tips for weaning yourself off cigarettes ...
by a certain date and replacing that habit with a healthier habit such as walking or chewing sugar-free gum. Learn more from our experts how to create a cessation plan.
More