The long-term benefits of quitting smoking include the following:
1 year after quitting, the excess risk of coronary heart disease is half that of a continuing smoker's.
5 years after quitting, the risk of cancer of the mouth, throat, esophagus, and bladder are cut in half. Cervical cancer risk falls to that of a non-smoker. Stroke risk can fall to that of a non-smoker after 2 to 5 years.
10 years after quitting, the risk of dying from lung cancer is about half that of a person who is still smoking. The risk of cancer of the larynx (voice box) and pancreas decreases.
15 years after quitting, the risk of coronary heart disease is that of a non-smoker's.
Quitting smoking protects family members from the dangers of second-hand smoke and sets a good example for children.
Women who quit during pregnancy will help prevent complications such as miscarriage, premature delivery, cleft lip, cleft palate and the baby will more likely have a normal birth weight. (During pregnancy, nicotine crosses the placenta and has been found in amniotic fluid and the umbilical cord blood of newborn infants.)
Food will taste better and the sense of smell will improve.
Breath, hair, clothes and car will smell better.
Fingers, fingernails and teeth will be less stained.
Energy will increase. Physical activities will be easier and more enjoyable.
Overcoming a strong addiction gives a person a sense of control.
Self-confidence will improve.
Life insurance premiums will go down.
Quitting smoking saves money.
People who quit will no longer be left out of breath doing everyday activities (such as climbing stairs or light housework).
Quitting smoking reduces the risk of cancer and other diseases, such as heart disease and lung disease, caused by smoking. People who quit smoking, regardless of their age, are less likely than those who continue to smoke to die from smoking-related illness. Studies have shown that quitting at about age 30 reduces the chance of dying from smoking-related diseases by more than 90 percent. People who quit at about age 50 reduce their risk of dying prematurely by 50 percent compared with those who continue to smoke. Even people who quit at about age 60 or older live longer than those who continue to smoke.
This answer is based on source information from the National Cancer Institute.
Continue Learning about Smoking Treatment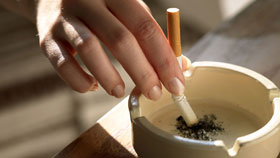 If you have an addiction to smoking, it is best to recognize the problem and work on a plan to stop smoking for your overall health improvement. To quit smoking, you can create motivational tips for weaning yourself off cigarettes ...
by a certain date and replacing that habit with a healthier habit such as walking or chewing sugar-free gum. Learn more from our experts how to create a cessation plan.
More