It does not have to be hard to quit smoking, even when other people around you are smoking. Believe it or not, you can go to social events without smoking, but it will be tough at first. You need to give yourself time to prepare for how you are going to handle the situation. You don't have to lose your friends. Let everyone know that you are quitting and that you will need their help to succeed. Work with them to find a place where they can smoke without making it hard on you. Working together with family, friends and coworkers can help you quit.
Continue Learning about Smoking Treatment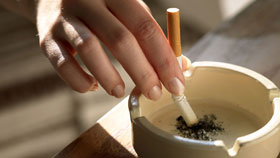 If you have an addiction to smoking, it is best to recognize the problem and work on a plan to stop smoking for your overall health improvement. To quit smoking, you can create motivational tips for weaning yourself off cigarettes ...
by a certain date and replacing that habit with a healthier habit such as walking or chewing sugar-free gum. Learn more from our experts how to create a cessation plan.
More