People try to quit smoking all the time. At least half of all smokers try to quit, and 70% of smokers say they want to quit. It's not easy to do, though, as statistics will attest: Most smokers take more than six stabs at quitting before they finally kick the habit. The good news is that 38 million smokers have successfully dropped the butts for good.

According to the U.S. Centers for Disease Control and Prevention, nicotine dependence is a chronic relapsing disorder. Most smokers require 5 to 7 attempts before they finally quit.

Every minute, everyday. The numerous patients i see in a day are always telling me they are trying to quit.
The average number of attempt to reach cessation is between 7-9 tries to before truly stopping.

Approximately 50% of smokers try and quit each year. It is much easier to quit when you get help with support group, plus pills, plus patch, and do some exercise too. Trying to quit cold turkey has only a 2% to 3% success rate, so get help to quit so that you can quit faster. On average, people use 6 quit attempts before they succeed.


Continue Learning about Smoking Treatment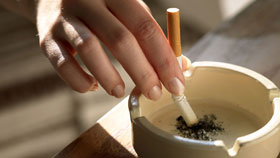 If you have an addiction to smoking, it is best to recognize the problem and work on a plan to stop smoking for your overall health improvement. To quit smoking, you can create motivational tips for weaning yourself off cigarettes ...
by a certain date and replacing that habit with a healthier habit such as walking or chewing sugar-free gum. Learn more from our experts how to create a cessation plan.
More