Yes. This is necessary to reduce the risk of sudden infant death syndrome (SIDS). Create this "back to sleep" habit right from the start so your newborn learns that this is the sleeping position.
There is one potential side effect from the child always lying with her head in the same position. The bones in newborns' heads are still forming, so babies can develop flattened heads, a condition called positional plagiocephaly. This is usually only a temporary problem, but some babies may need to wear special head-shaping helmets for a year or undergo physical therapy to correct it.
So, how do you prevent positional plagiocephaly? By turning your baby's head to one side, alternating each night: right facing one night, left facing the next, and so on.
From The Smart Parent's Guide: Getting Your Kids Through Checkups, Illnesses, and Accidents by Jennifer Trachtenberg.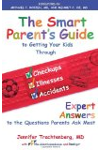 It is incredibly important for babies to be placed to sleep on their backs. SIDS, or Sudden Infant Death Syndrome, has decreased by almost fifty percent for babies who sleep on their backs.
When babies get older, they can turn from their backs to their tummies. At this point, do not flip them to their backs again. They are showing they have the motor control necessary to flip and are no longer at increased risk from tummy sleeping.
Continue Learning about Sleeping & Napping In Babies