Behavioral sleep problems in children are often caused by inappropriate sleep schedules, long and inconsistent bedtime routines, inconsistency on the part of the parents in the ways they respond to their childrens' sleep problems, misinformation on the part of the parents about children's sleep, and the overabundance of conflicting information about children's sleep and how to deal with sleep problems.
The most common behavioral sleep problems in children are nap issues, bedtime battles, night wakings and early risings, and crib to bed transitions. The key is to avoid having your child enter into a state of sleep deprivation. That state only leads to the child being consistently overtired, which is the biggest cause of night wakings in children. It is a good idea to try your best to break that cycle of sleep deprivation because it has a cumulative affect and leads to all the problems stated above. Always remember, the more sleep the better!
Some kids have trouble falling asleep or resist going to bed because they're afraid to be alone. Some have sleep terrors or nightmares, or snore loudly enough to wake themselves up (which could be a sign of sleep apnea and is worth discussing with your pediatrician). Some children crawl into their parents' bed in the middle of the night, swearing that it's the only place they can sleep (hey, kids can appreciate 350-thread-count sheets, too). Don't fall for it. Without creating a huge fuss, take your child back to his bed, reassure him, and tuck him in. If you give in to this habit, you will have a very hard time breaking it.
From The Smart Parent's Guide: Getting Your Kids Through Checkups, Illnesses, and Accidents by Jennifer Trachtenberg.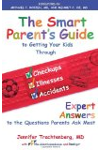 Continue Learning about Sleep Disorders