As we age, we can experience a variety of problems that either mess with our sleep or are sleep-related themselves, like depression (where you sleep too much) and anxiety (which can keep you awake). Circadian rhythm problems are frequent in shift workers, and up to 30 percent of people over 50 have restless legs syndrome—the periodic movement of limbs during deep sleep. This inability to stay asleep serves as the source of many sleep difficulties, but many can be treated with shifts in your sleep "hygiene," as well as with other tactics.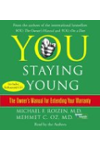 Continue Learning about Sleep Disorders

Insomnia, sleep apnea, and snoring are just a few of the health conditions that can leave you tired and irritable. Find the causes, diagnosis, and treatment for sleeping problems that can leave you counting sheep.