If you have watched a professional football game anytime since the mid-1990s you probably noticed that many of the players wear nasal strips. These adhesive strips mechanically open the nasal passages. The most popular brand is Breathe Right. The strips were invented by Bruce Johnson in 1991. Bruce had always had trouble breathing through his nose, especially at night. Besides suffering from an array of allergies, Bruce has a deviated septum, a structural abnormality of the nose that constricts airflow through one nostril. This combination left his nose chronically congested and made sleeping through the night quite difficult. Lying in bed one night in 1988, he wondered, "Why not try opening the nasal passages mechanically from the outside of the nose?" His answer, after three years of development, took the form of a spring-loaded adhesive strip that he placed across the bridge of his nose to open it up. The device relieved his congestion and improved his sleep quality dramatically. He soon received a patent for his invention, and he brought his product to market in 1992.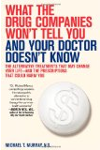 Continue Learning about Sleep Disorders

Insomnia, sleep apnea, and snoring are just a few of the health conditions that can leave you tired and irritable. Find the causes, diagnosis, and treatment for sleeping problems that can leave you counting sheep.