As adults, we can reap the sleep benefits of daily exercise. In addition to daily aerobic exercise, like brisk dog walking, night time stretching can also help get us ready for sleep. Make an evening walk with your dog and 15 minutes of gentle stretches after returning home part of your before-bed time routine.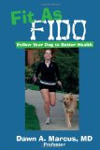 More About this Book
Fit As Fido: Follow Your Dog to Better Health
Let your dog teach you to live a happier, healthier, and more fulfilling life! Companionship with your pet can be used as a means and a motivator to increase your own physical and mental fitness....
You may have heard that exercise at night can keep you awake. In this video, internist and sleep medicine expert Carol Ash, DO, explains why the truth is actually very different.
Continue Learning about Sleep Basics