Even among people who get a good number of hours of sleep each night, many people feel their sleep is restless, light, or of poor quality. This has been described as non-restorative sleep. A survey of 25,580 Europeans from seven countries found that 11 percent reported non-restorative sleep. People experiencing non-restorative sleep were over twice as likely to report moderate to severe physical and intellectual fatigue. They were over three times more likely to report a moderate to severe decrease in effectiveness, memory problems, and mood problems (including irritability, depression, and anxiety).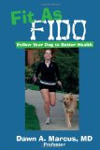 More About this Book
Fit As Fido: Follow Your Dog to Better Health
Let your dog teach you to live a happier, healthier, and more fulfilling life! Companionship with your pet can be used as a means and a motivator to increase your own physical and mental fitness....
Continue Learning about Sleep Basics