Many people falsely believe alcohol aids relaxation when in fact it is a stimulant and should be avoided in the evening. Do not have beer, wine, or any other alcohol within six hours of your bedtime.

Other stimulants to skip during afternoon and evening hours include caffeine (coffee, tea, chocolate, and many sodas), nicotine, and sugary or spicy foods. For best results, don't go to bed hungry, but don't sleep on a full stomach either. In general, exercise will help you sleep, but avoid vigorous exercise near bedtime.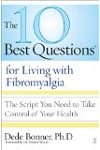 More About this Book
The 10 Best Questions for Living with Fibromyalgia: The Script You Need to Take Control of Your Health
An indispensable resource that empowers fibromyalgia patients to take charge of a debilitating disease and get the health care they deserve. Fibromyalgia—a painful, exhausting, and often misdiagnosed disease—affects up to 12 million Americans (90 percent of them women). And because many health care professionals are still learning how to diagnosis and treat its confusing symptoms, patients living with the disorder must become proactive and informed consumers for their own health. The expert advice found within The 10 Best Questions™ for Living with Fibromyalgia gives readers the answers they need to get the best care possible and enjoy a more normal life. This essential book provides the Best Questions that patients should ask their doctors, partners, children, and friends, accompanied by the "best answers" drawn from cutting edge research and extensive interviews with the top experts in the field. There are chapters on what to ask about your diagnosis, test results, second opinions, for ongoing disease management, to lose weight, get more sleep, and to make other healthy lifestyle changes. This practical and holistic book also offers Best Questions and advice for fibromyalgia patients for their relationships with partners, children, friends to ensure emotional, financial, and spiritual health. Each chapter concludes with The Magic Question™, the one crucial question most people never think to ask until it's too late.
Some of the most obvious things to avoid for sleep improvement include:
Caffeine. Caffeine can have a half-life of up to 10 hours for some people. This means that the soda or coffee you had at 2:30 as your afternoon pick-up could still be keeping you up at 10 at night.
Alcohol: While alcohol can make people feel more relaxed sleepy, it actually prevents them from going into deep sleep. Additionally, it is a diuretic (will make you have to go to the bathroom) and once your body has metabolized it you will often wake up to go to the bathroom, disrupting sleep.
Nicotine. While many people report that nicotine relaxes them it is actually a stimulant, which means it can prevent sleep onset.
Emotional conversations. Because of our busy lives, often the first opportunity of the day we have to speak to a spouse or partner is in bed. The conversations people have right before they go to sleep can therefore be highly emotional and are often the opposite of relaxing! Finding better times in the day to discuss these issues can help improve sleep as high emotional content conversations can prevent relaxation for sleep.
Vigorous physical activity. While exercise in general seems to help most people sleep, exercising right before bed can cause enough autonomic arousal to prevent the muscles from relaxing. Try to give yourself about two to three hours between workouts and bedtime.
Generally, I don't like telling you not to do something unless it's smoking, slurping trans fats, or spending 16 hours in front of the tube. But for optimum sleep preparation, there are a few things you should avoid to increase your chance of falling—and staying—asleep.
No alcohol or nicotine for one-and-a-half hours before bed.
No exercise that makes you sweat for one-and-a-half hours before bed (doing things that make you sweat in bed are OK).
No caffeine, caffeinated beverages or food, or caffeine in pills for at least three hours before bed, or as long as your body dictates.
No eating for three hours before bed, so you can avoid reflux issues that can disturb sleep.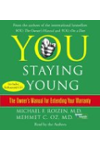 Continue Learning about Sleep Basics