We often think that sleep is the time when the body shuts down, like turning off a switch on a robot. Actually, sleep is a very dynamic process, with lots of brain activity. You sleep in cycles, with each cycle lasting about 90 to 100 minutes. During each cycle, your brain passes through five important stages of sleep: stages 1, 2, 3, and 4 and then dream sleep. Dream sleep is known as rapid eye movement (REM) sleep, because your eyes move back and forth during this stage of sleep. Stages 1 and 2 are the lightest stages of sleep. When you take a nap, you're in these light stages and it's easy for someone to quickly wake you up. During Stage 1 sleep, you may have a feeling that you're falling and involuntarily jerk, waking yourself up. Stages 3 and 4 are deeper sleep. These are the stages where you need to shake someone to wake him up. When you wake up from stages 3 or 4, you may feel temporarily confused and disoriented for a few minutes. Most of us have had that experience where you're woken up and for a few minutes you're not sure where you are. This happens when you wake up during deep sleep. During REM sleep, your heart beats faster, breathing quickens, and your arms and legs don't move. During REM sleep, you'll have the most vivid dreams. We generally can remember our dreams if we wake up during REM sleep.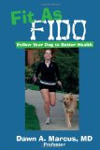 More About this Book
Fit As Fido: Follow Your Dog to Better Health
Let your dog teach you to live a happier, healthier, and more fulfilling life! Companionship with your pet can be used as a means and a motivator to increase your own physical and mental fitness....
Continue Learning about Sleep Basics